Nissan Service in Raleigh, NC
We provide all the services that you need to get your Nissan back in the prime of its life. Fred Anderson Nissan Raleigh can get you the oil change that you need and all the major repairs that your Nissan may be hurting for. With our expert staff doing your service you can rest easy. Our team is comprised of some of the best Nissan service people in existence. They have the training and they have the experience that you want under your Nissan's hood. Not only will they know what is wrong with your Nissan, but they will know how to fix it. They will have the right tools in their hands and they will have a state-of-the-art facility to back them up. We offer:
Customer Car Wash: Top of the line car wash available for our customers; plus, Family Plan customers receive a free car wash with EVERY service!
Customer Waiting Area: Relax in our waiting area with complimentary Wi-Fi and comfortable seating.

Competitive Pricing: Our service department works tirelessly to provide aggressive & competitive service & parts prices, so go ahead, shop around and find why customers keep coming back.
Transportation: Looking for a loaner car while you wait? Our Family Plan members enjoy lifetime loaners while their vehicle is being serviced
Come to Us For:
Front End Alignment
Maintenance (Wipers, Headlights, Etc)
Service Package 
Muffler / Exhaust Repair
Coolant Flush
Vehicle Checkup / Inspection
Transmission Flush
Electrical Service
Filter Replacement
Tire Balance
Much More!
Schedule Service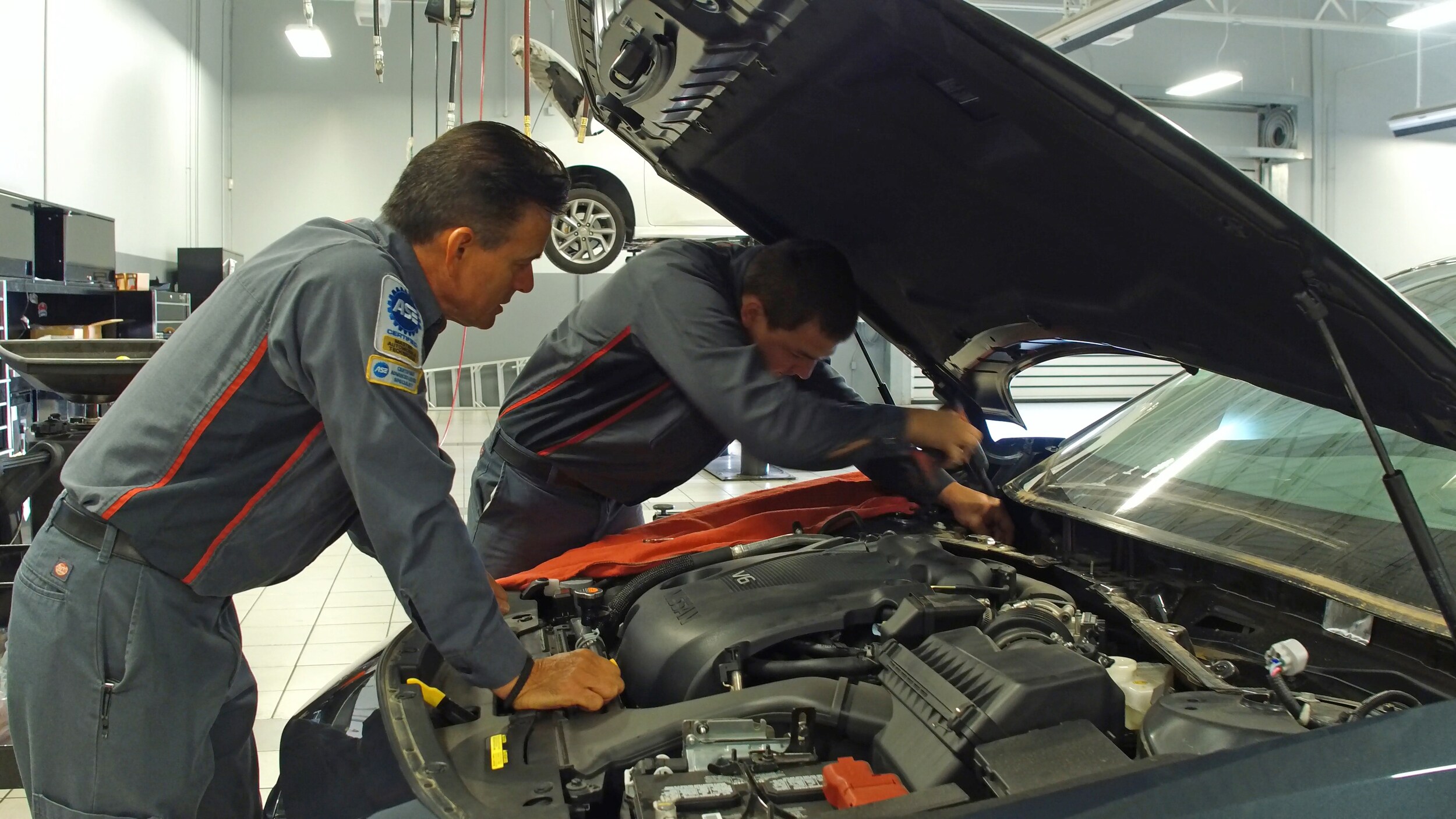 Schedule car service in Raleigh, NC
When your Nissan needs service, you need to bring it to Fred Anderson Nissan Raleigh. We have the facilities and the staff to tackle any problem that your Nissan might confront us with. We will follow manufacturer's procedures and guidelines to make sure that your vehicle is not only running properly, but will continue to run properly. We take our service seriously, because we want you to have the best Nissan owning experience possible. We will work efficiently to get you out on the road sooner, and we will work accurately to make sure that you can stay out there longer.
Fred Anderson Nissan Raleigh is an honest dealership, and we run an honest service center. We will be upfront with you regarding any costs, service timelines, or required maintenance and service. We will never hide anything from you. That may sound like an obvious business strategy, but many service shops make a living off hiding things from their customers. They will favor making a quick buck over making a happy customer. The difference between us and them is that they hope they will never see you again, whereas we want you to be more than happy to come back. We will take the time to make sure that you understand everything that we are about to do to your vehicle before we do it. There will be no unexplained charges or mysterious service work on your bill by the time we are done. We give you exactly what you ask for at Fred Anderson Nissan Raleigh.
Service Coupons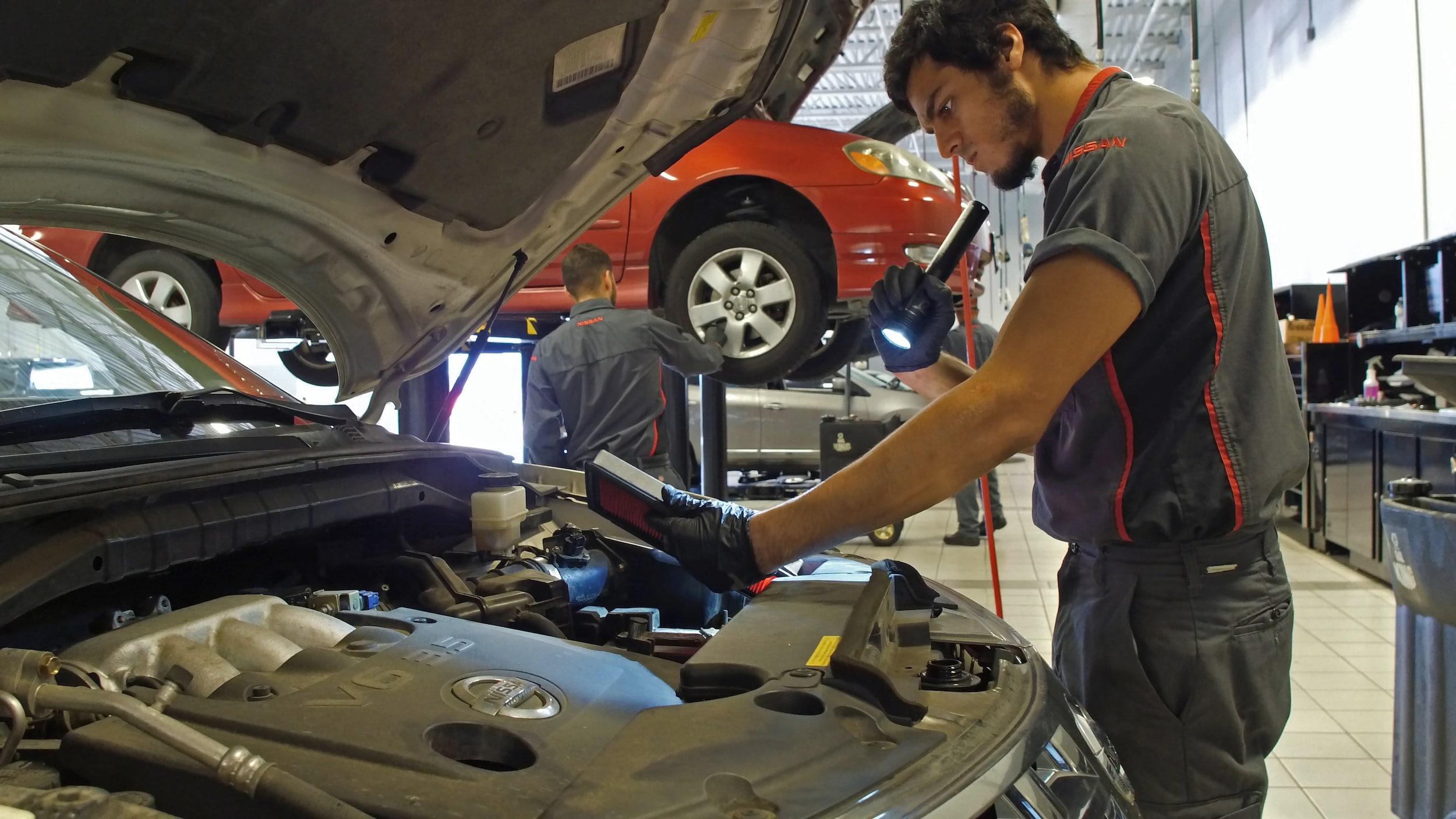 Get service from the best of the best at Fred Anderson  Nissan Raleigh
Getting parts for your Nissan is a pivotal time in the life of your vehicle. You could go get the discount part or go digging around in a junkyard, but you will regret it, and so will your Nissan. These are precision machines, and they need more than a junkyard part. They need a piece of that precision and quality that they had when they were new, and you can only provide that with genuine OEM parts. These parts will give your Nissan a long-lasting life, and your Nissan will thank you for it. Trusting anything less may sacrifice the safety and the reliability of your vehicle. Do not sell your Nissan short. Get it the proper genuine OEM parts that it needs.
Now that you know we will provide you with the right quality of parts, we should also assure you that we will get you the right part for the job that you have in front of you. Our expert parts staff will supply you with everything that you need to complete any task. We do not want you to have to come back here due to a parts mistake. We will leverage our massive inventory to get you the parts that you need right away, and if you need something that we do not have, then we can order it in for you and get it here fast. Of course, you can just leave the whole process to us and we'll make sure that your car gets everything that it needs replaced properly. If you have any questions for any of our departments then give us a call, or stop by.
What Customers Are Saying
"They rendered the best service I have ever had with a dealer's auto maintenance department" -Recent customer
"Amazed by your Service Department" -Jannah
"I have been to many Nissan dealer service centers in different states and this one is the best one I have worked with. I will be coming back to this service center even though there are ones closer to me" -Happy customer