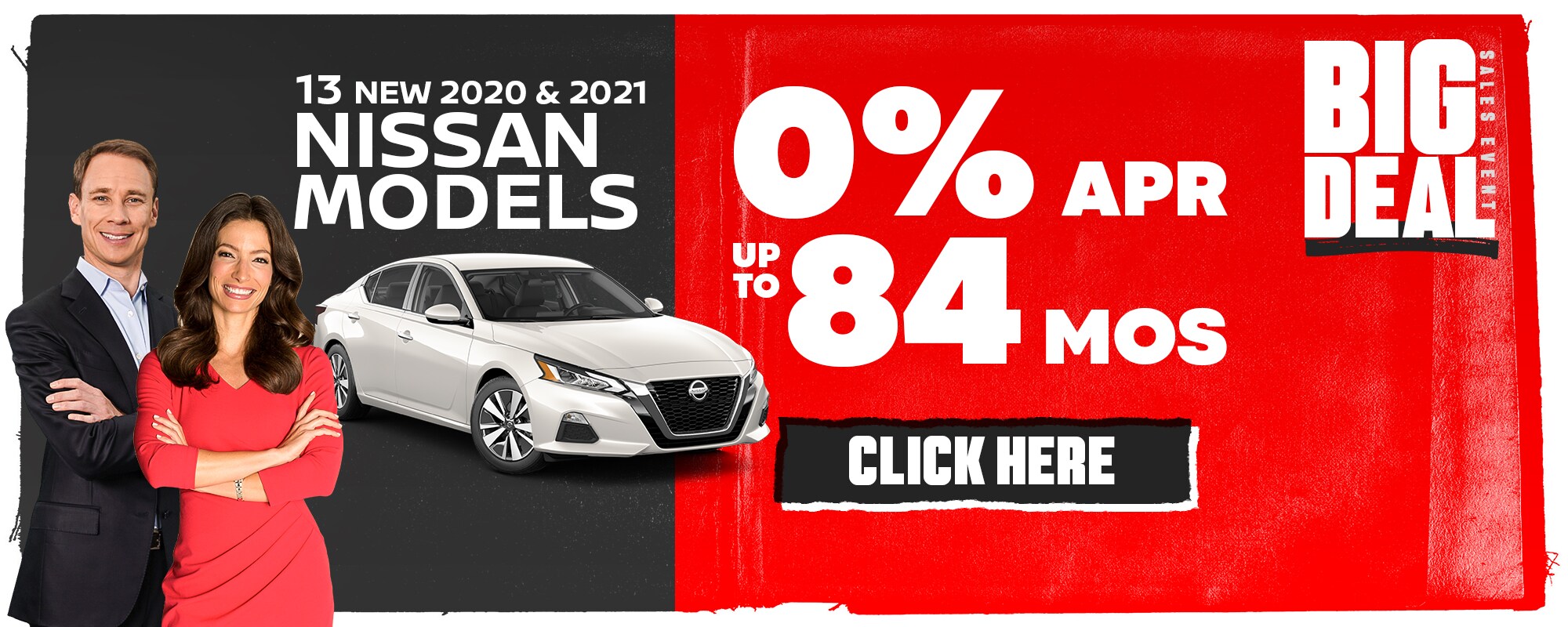 13 New 2020 & 2021 Nissan Models
0% APR Up To 84 Months
Excludes tax, tag, title, license & $649 administrative service fee; 0% APR with approved credit thru NMAC based on $11.90/$1,000 financed, $0 down subject to credit approval. Valid on select new Nissan models; Example MY20 and MY21 Titan; Ends 5.3.2021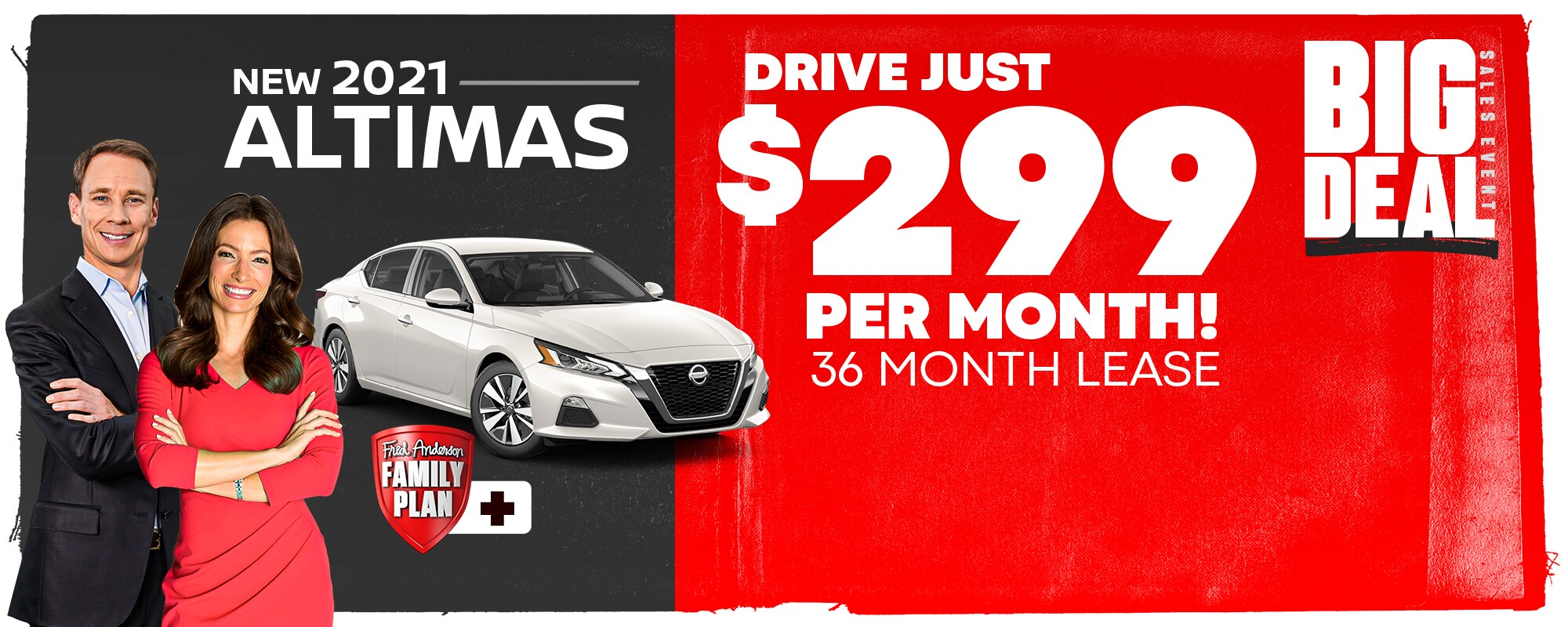 New 2021 Altimas
Drive just $299 per month for 36 months lease
Excludes tax, tag, title, license & $649 administrative service fee; Lease with approved credit, 36 month closed-end lease, Example VIN MN369446, MSRP $25805, includes $1350 Nissan rebates; $2499 Due At signing includes down payment and $299 1st month's payment, Net Cap Cost $21977.42. $10764 total monthly payments. Residual 52% or $13418.60, Lease Sell Price $24155, $.25 per mile for mileage over 10,000 miles per year. Disposition fee due at termination of lease term. $0 security deposit; Ends 5.3.2021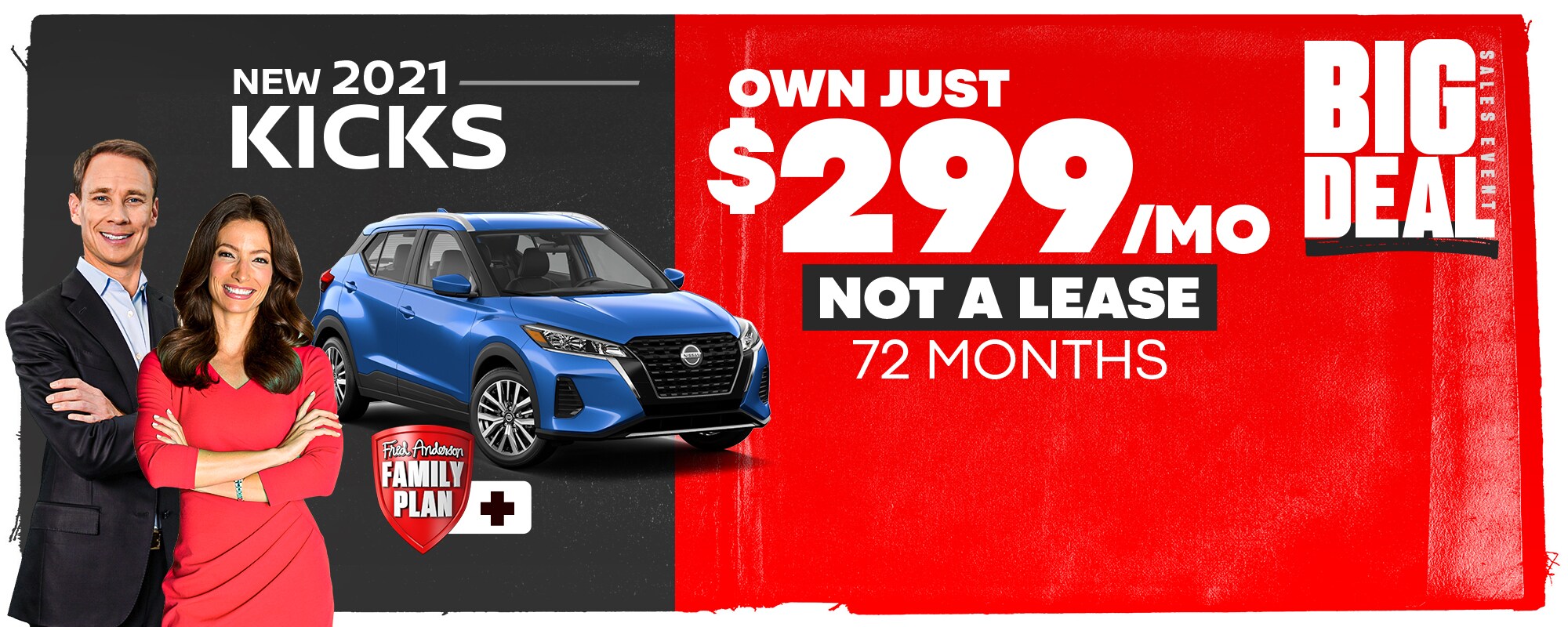 New 2021 Kicks
Own just $299 per month for 72 months - not a lease
Excludes tax, tag, title, license & $649 administrative service fee; Purchase $299/Month for 72 months, not a lease, with approved credit with 2.9% APR 72 Months based on $15.15/$1,000 financed. Example VIN ML468600, MSRP $21455, Sell Price $20,643, $1,999 down payment required + $299 1st month's payment due at signing, Ends 5.3.2021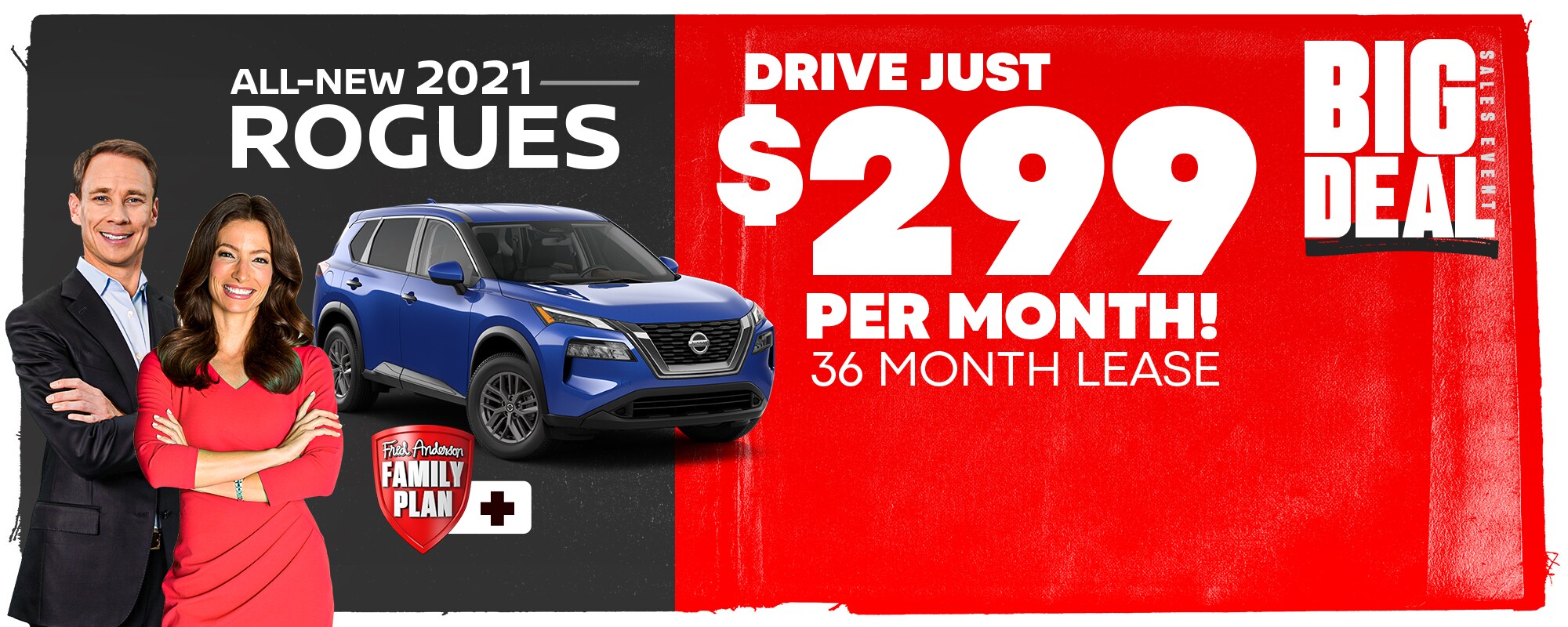 All-New 2021 Rogues
Drive just $299 per month for 36 months lease
Excludes tax, tag, title, license & $649 administrative service fee; Lease with approved credit, 36 month closed-end lease, Ex VIN MW011180, MSRP $27365, $2499 Due At signing includes down payment and $299 1st month's payment, Net Cap Cost $25122.49. $10764 total monthly payments. Residual $16692.65, Lease Sell Price $25901, $.25 per mile for mileage over 10,000 miles per year. Disposition fee due at termination of lease term. $0 security deposit; Ends 5.3.2021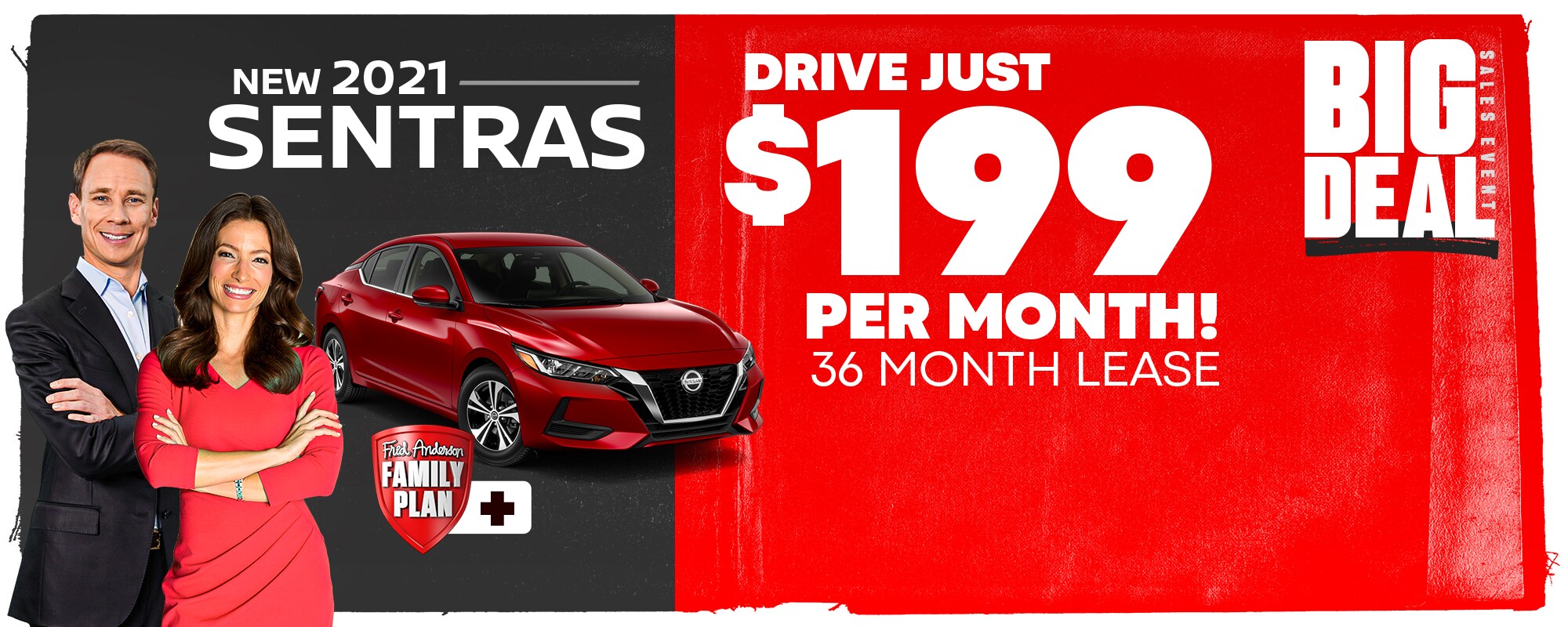 New 2021 Sentras
Drive just $199 per month for 36 months lease
Excludes tax, tag, title, license & $649 administrative service fee; Lease with approved credit, 36 month closed-end lease, Ex VIN MY238954, MSRP $21965, $3099 Due At signing includes down payment and $199 1st month's payment, Net Cap Cost $19372.45 $7164 total monthly payments. Residual $13618.30, Lease Sell Price $20850, $.25 per mile for mileage over 10,000 miles per year. Disposition fee due at termination of lease term. $0 security deposit; Ends 5.3.2021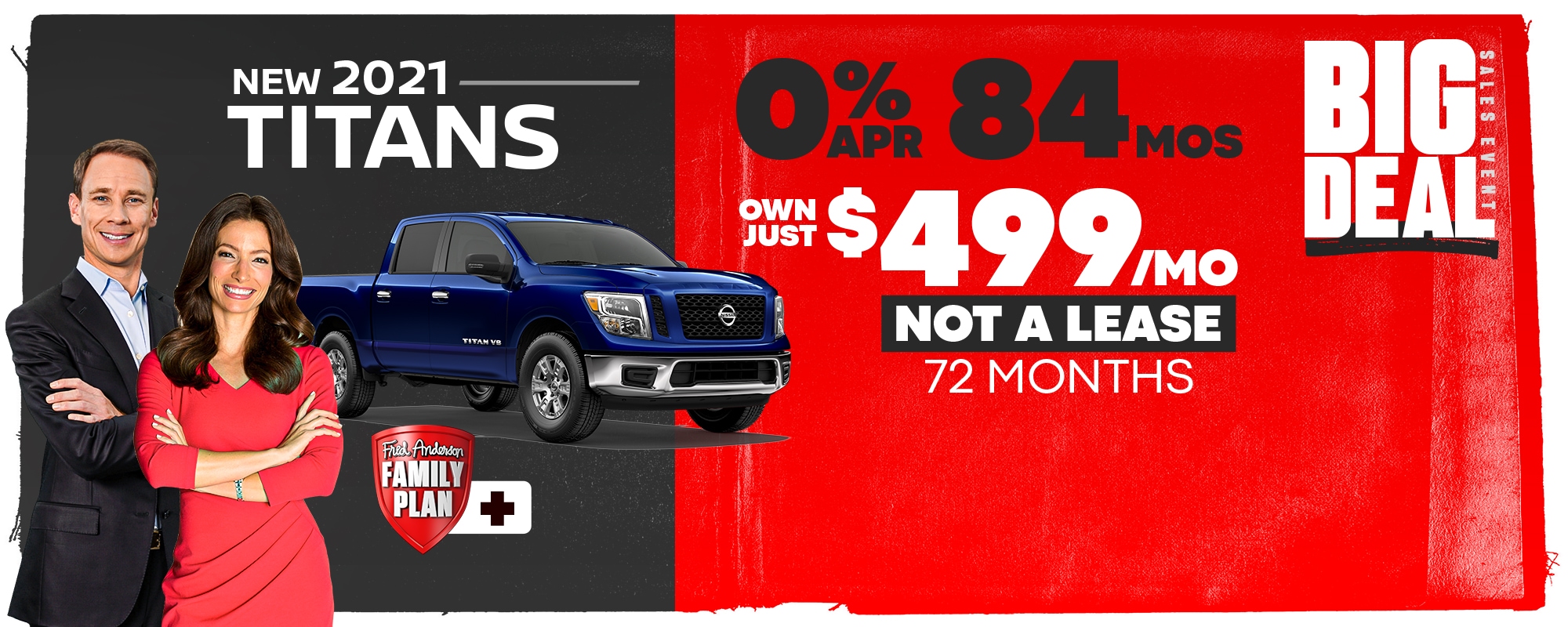 New 2021 Titans
0% APR 84 months
Own just $499 per month for 72 months - not a lease
Excludes tax, tag, title, license & $649 administrative service fee; 0% APR with approved credit thru NMAC based on $11.90/$1,000 financed, $0 down subject to credit approval; Purchase $499/Month for 84 months, not a lease, with approved credit with 0% APR 84 Months based on $11.90/$1,000 financed. Example VIN MN502943, MSRP $48,710, Sell Price $43,399, $3,500 down payment required + $499 1st month's payment due at signing, Ends 5.3.2021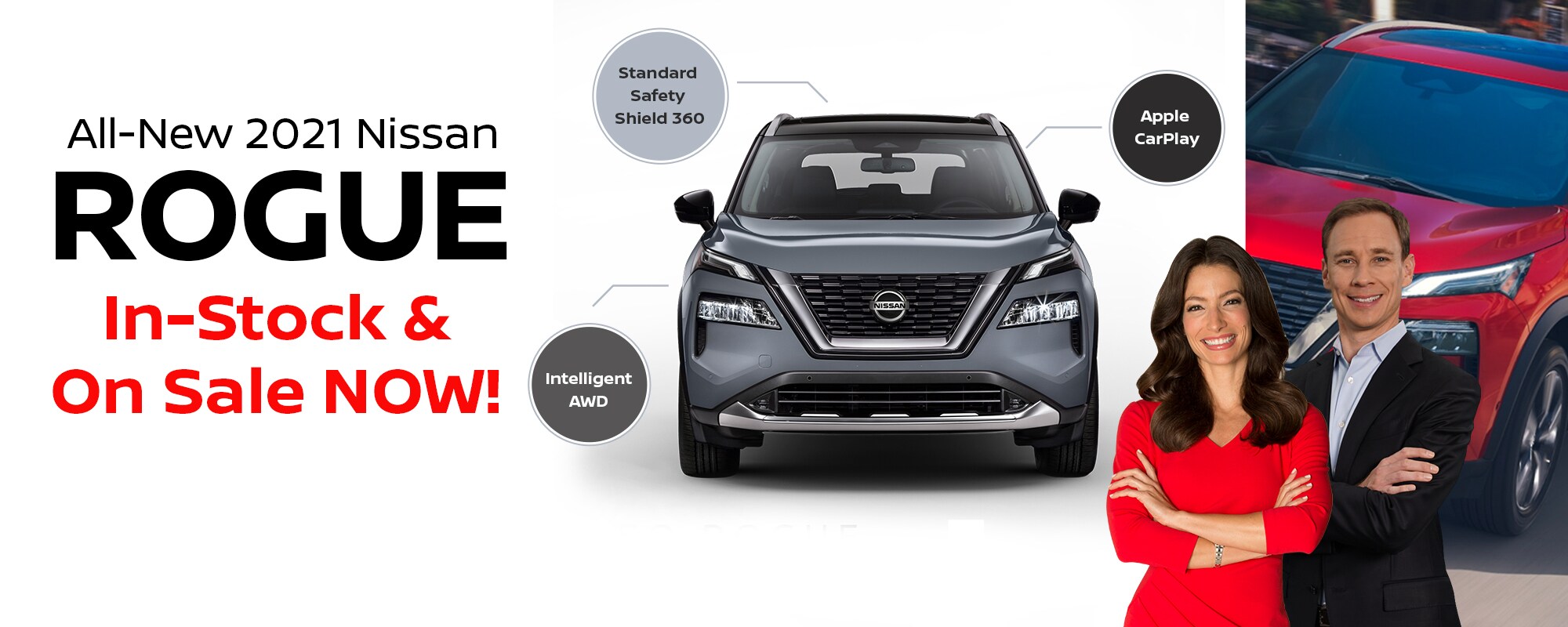 All-New 2021 Nissan Rogue
In-Stock & On Sale Now!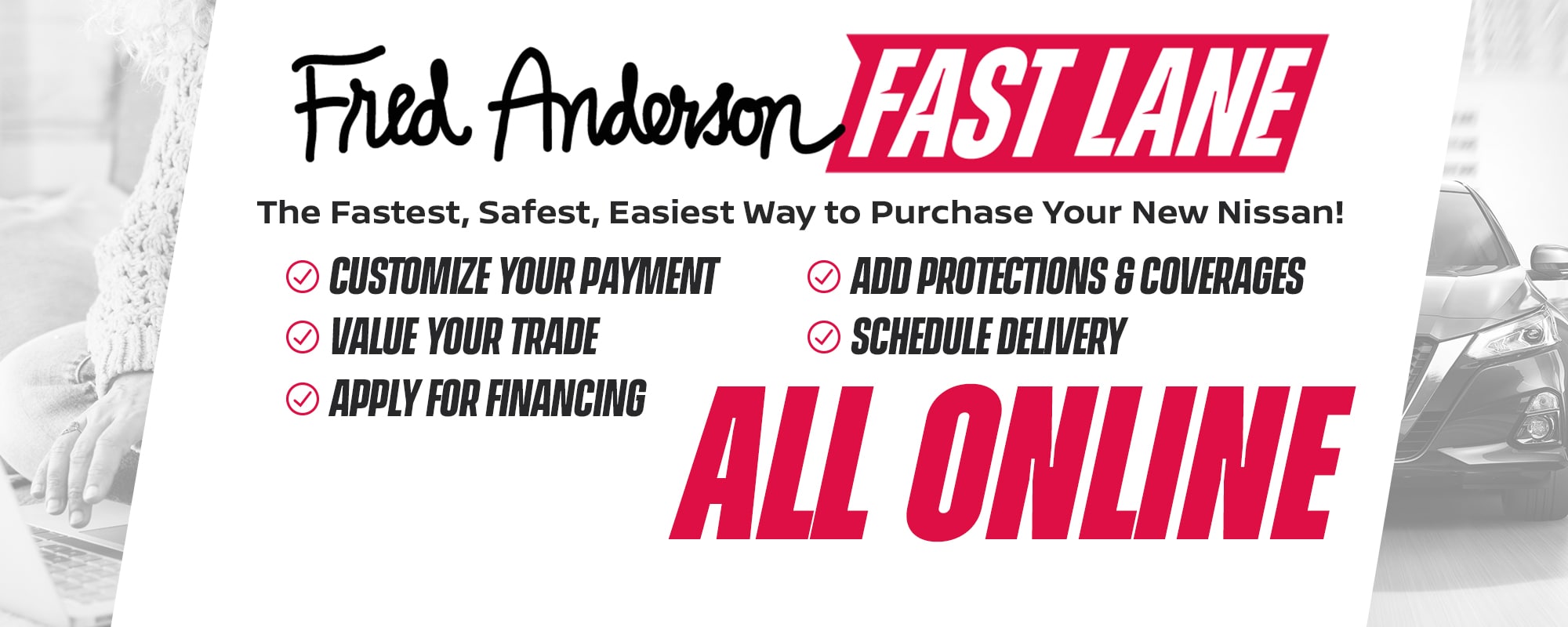 Fred Anderson Fast Lane
The Fastest, Safest, Easiest Way to Purchase Your New Nissan!
Customize your payment, value your trade, apply for financing, add protections & coverages, schedule delivery, all online!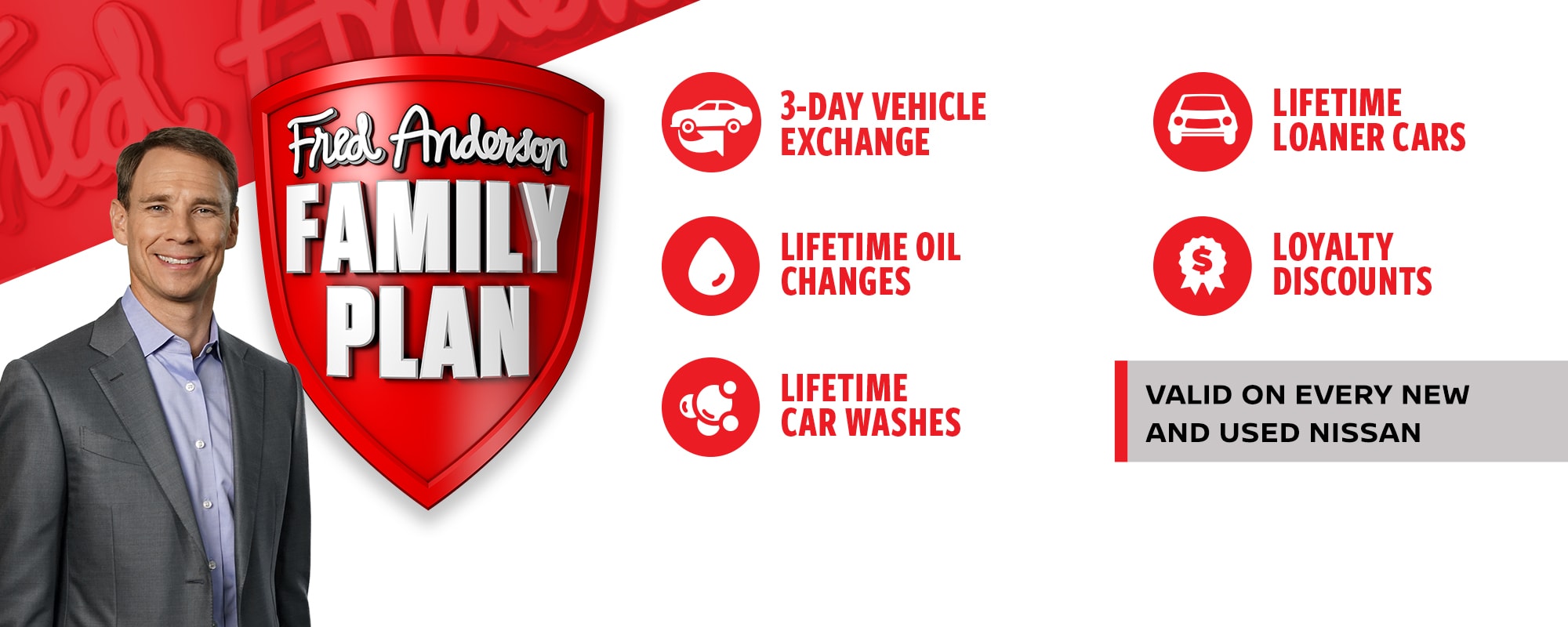 The Family Plan at Fred Anderson Nissan of Raleigh, NC  
Valid on every new and used Nissan!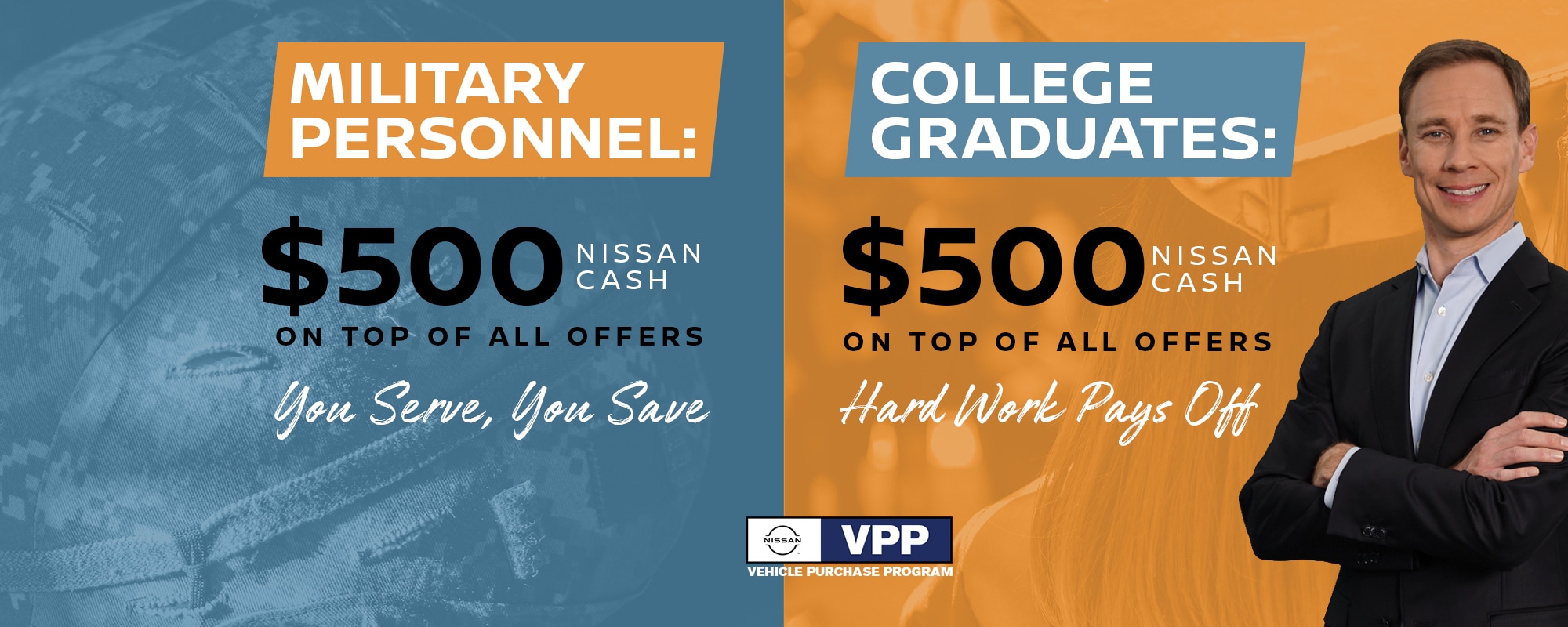 Military Personnel:
$500 Nissan Cash on Top of All Offers
College Graduates:
$500 Nissan Cash on Top of All Offers
Excludes tax, tag, title, license & $649 administrative service fee; See respective pages on dealership website for full eligibility requirements that apply to qualify, Limit one vehicle purchase per qualified participant for personal use in their name only. No down payment required. Available on lease or purchase. Must take delivery from new dealer stock. Subject to residency restrictions. Other restrictions apply. See dealer for details.

Don't Get Underpaid For Your Trade! 
Value your vehicle trade in!